AudienceBakery is your one-stop shop for a mobile, social, and digital solution. But, we can also easily incorporate technologies you're already using and are comfortable with. We can help you manage the entire process from offering you the tools to do it yourselfd ot managing your mobile, social, and digital efforts for you. We take a simple approach, using a single database to manage all communications with your customers. We call it a Social Customer Relationship Management system. All data comes to a single place making it easy to access and communicate. The opportunity for success increases greatly when all the parts work together. Take a look at our turn-key solutions and tools below.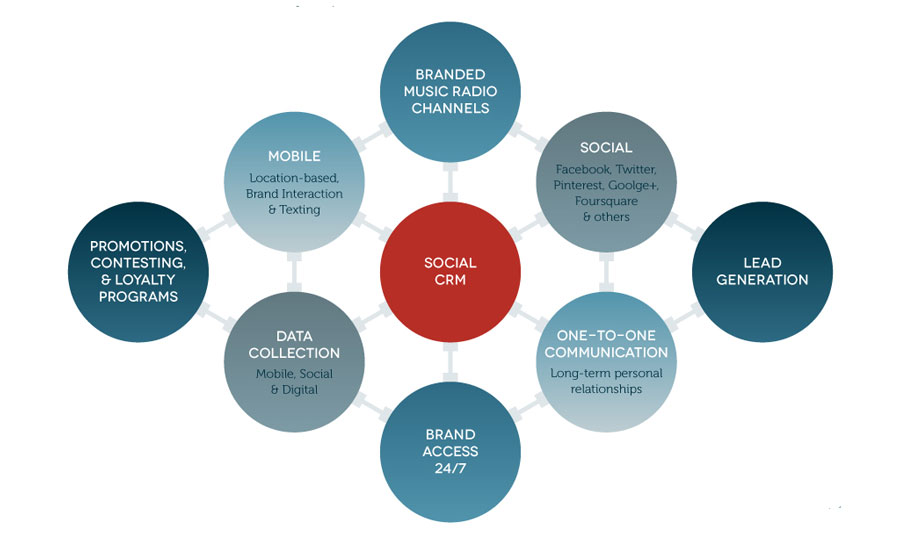 ---
Tools and Cool Stuff
Social Player

Social networking is a must in any marketing plan. Use your fans to help build loyalty to your brand with an AudienceBakery branded music channel. In January 2012, Facebook said "Music is one of the most powerful and fun ways to connect." Your branded music channel can be embedded on your Facebook, Google+, or other social networking site so your fans can share it with their friends.

Mobile Player

The majority of your customers already have cell phones. The latest studies show the number of smartphones at over 40% and increasing daily. Add iPads and other tablets, and laptops and you're missing a large amount of your customers if you're not streaming.

Ad Network Players

Your branded music player can be easily deployed across multiple sites through ad networks. The custom player meets the 300 x 250 ad standard making it easy to work on any web site or ad network. Its a an easy and effective way to expose your Branded Radio-On-The-Go channel and build community across multiple sites through online ad networks.

Location Based Mobile Marketing

Our one-to-one marketing solution helps you reach your fans and customers anytime they're near close by. Drive traffic to your locations when they're close with special opportunities designed just for them. This tool gives you the opportunity to make your customer feel special and bond on a personal level.

Turn-Key Content and Technology Solution

We take care of everything. We help you turn your customers into fans while building your brand with unique content. Customized player design, streaming, and royalties are included. The technology is compatible on all mobile platforms, social networks, ad networks, and web sites. The player can be embedded or shared via email and uses "click to share" on Facebook, Google+, Twitter, and other social networks and sharing environments.

Branding Design Services: Production, Custom Music, Jingles, Video, Graphics

From Hooper Music. McDonalds, Kroger, and others use Hooper Music when they want impact. The Bakery is filled with voices you hear on radio and television all the time. ATT, Apple, Subway, Fox Sports, Ortho, Ruth's Chris, Gordo's Cheese Dip, and more. Our voice actors know how to connect one one-on-one with your customers. This builds a stronger connection between your brand and your customer. Our graphic designs are created by our film.tv.video graphics designers in Austin and San Francisco. You've already seen their work in movies and television like Friday Night Lights, Man Of The House, Machite, and others. Ask your client services person for more information. More

Customer Research and Usage Analysis

AudienceBakery is affiliated with Doug Jones Research to offer you unique research techniques on consumers of audio content. America's top media companies including ABC, ESPN, Clear Channel, CBS, and others use Doug Jones when they want to know what the audience thinks and how best to create a stronger experience between brand and customer.