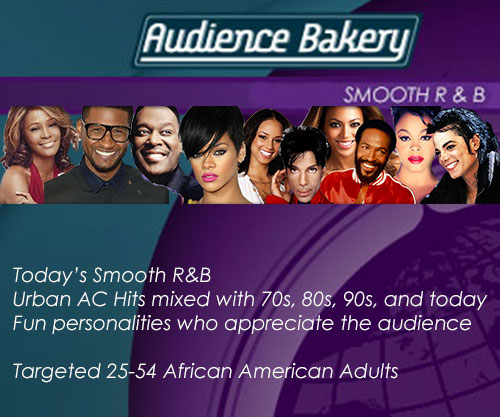 Call Robin Sanchez for more info on Smooth R&B or other Urban programming and content.
1.866.480.RADIO x9099 or click to email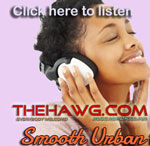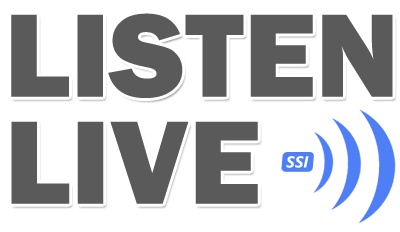 Format Description
Smooth R&B Urban AC mixes today's top Urban AC Hits with recent hits and old skool favorites from the 80s AND 90s.  We mix in the best 70s R&B for flavor and fun.  Smooth R&B is a refreshing, bright, Urban AC mix.
Anthony Hamilton - Usher - Luther Vandross - Mary J Blige - R Kelly - Beyonce - John Legend - Michael Jackson - Toni Braxton - Prince
Smooth R&B is designed to create a perfect environment for your advertisers' messages to shine. Targeting 25-54 African-American women, Smooth R&B creates an extremely personal bond with the listeners that extends to advertisers as well. Smooth R&B is female focused, family friendly, and delivers results for advertisers.
Smooth R&B and Old Skool
Programming & People
AudienceBakery Radio's Smooth R&B is programmed by VP/Urban Programming and Content, Vern Catron.  Vern's lead urban programming for Reach Media, Tom Joyner, and ABC Radio Networks.  He is a consultant, major market PD, Air Personality and business owner.  Vern is joined on the air by major market urban radio personalities who know how to speak directly to your listeners in a personal way.
Monica Reid knows your listeners. She's been talking to them for decades on America's biggest Urban and Urban AC stations. When you hear Monica, you'll understand why urban station owners throughout the country are talking about the new Smooth R&B.

Billy Raven hosted "Love After Dark"on Miami's  WLVE, Love94 for 19 yrs. The native New Yorker's show was syndicated nationally.

Billy has been heard on major radio stations throughout the country. Your listeners will know Billy's voice from his spots for HBO, Lexus, Jaguar, and the U.S. Air Force.

Billy loves radio and enjoys working and being a part of the community.