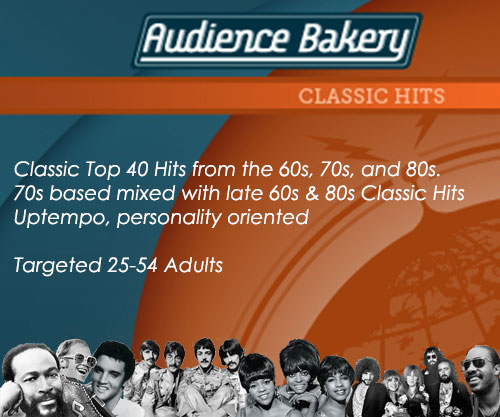 For more info on Classic Top 40 Hits or other 24/7 Formats call today.
1.866.480.RADIO or click to email
CLICK BELOW to experience Classic Top40 Hits
Client Station 99.1 KXLG, Watertown, South Dakota

Format Description
Classic Top 40 Hits from AudienceBakery Radio features hits from the 60s, 70s, and 80s. Classic Top 40 Hits is 70s based with favorites from the mid and late 60s and 80s hits from Classic Top 40 artists. We keep the music fresh with our library of thousands of the greatest Classic Top 40 hits. 
The Beatles - Elton John - Steve Miller - Marvin Gaye - Fleetwood Mac - John Mellencamp - Eagles - Rolling Stones - Billy Joel - Stevie Wonder
Classic Top 40 Hits targets 25-64 Adults. We focus on the consumers advertisers want, adults in their 40s and 50s with money to spend. We attract those highly educated listeners with a broad mix of their all time favorite songs and fun personalities to keep them company.
Classic Top Hits - 60s, 70s, and 80s
Programming & People
| Classic Top 40 Hits PD JJ McKay is one of radio's brightest stars. A major market PD and air personality, he's driven top ratings in Dallas, Denver, Boston, Washington, DC., and Charlotte. Your listeners will know JJ from his national spots and love his fun and entertaining radio show. | | |
| --- | --- | --- |
| From child actor to major market PD and air personality to national voice actor, Mike O'Neil continues to entertain everyday with his unique perspective and musical knowledge. Your listeners will tune in everyday so Mike can keep them company with the greatest hits from the 60s, 70s, and 80s on Classic Top 40 Hits. | | |
| Dave Evans loves the music from the 60s, 70s, and 80s. After tours from Tulsa to Tampa and Hartford to L-A, Dave settles in nightly for a one-to-one conversation about the greatest hits of all time on Classic Top 40 Hits. Among the evenings' sponsorable features are the 60s at Six and the 70s at Seven. | | |