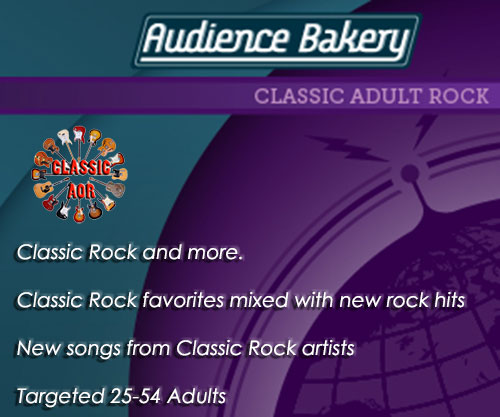 For more info on Classic AOR or other 24/7 Formats call today.
1.866.480.RADIO or click to email
CLICK BELOW to experience Classic AOR
CLIENT STATION KMYK 935 Rocks the Lake

Format Description
Classic AOR is what adult album rock stations are supposed to sound like.  The music is built on a solid proven Classic Rock library.  We keep it interesting by peppering in deep cuts, new music from Classic Rock artists, and new songs from newer bands loved by the Classic Rock fans.
Led Zeppelin - Foo Fighters - Doobie Brothers - Bruce Springsteen - The Cars - Three Days Grace - Boston - Kings of Leon - Dire Straits - Clapton
Classic AOR offers a broad appeal across all demographics among 25-54 Adults. Arbitron reported 2013 as the highest ratings for Classic Rock stations in years. It's the perfect format to give advertisers the broad reach they desire.
Classic Rock and more
Programming & People
RICK LAMBERT

Classic AOR programming comes under the watchful eye of rock radio pioneer, major market air personality, & AudienceBakery SVP of Programming & Content, Rick Lambert.  Rick's resume includes some of America's premier rock stations like KNDD, KLOL, WGRD, & XM/Sirius.
 

WEED IN THE MORNING

No better way to start your day that Classic AOR and a little "Weed in the Morning." Ricky Weed has been playing rock and roll music since vinyl was cool the first time around. His wit and musical knowledge will wake your listeners up with a positive attitude, a smile on their face, and ready to rock and roll the whole day.

MICHELLE MICHAELS

Michelle is one of Classic Album Rock's most enduring personalities. Michelle has been playing rock and roll for decades on great stations from Alaska to Dallas and on ABC's Classic Rock format for 20 years. Now she keeps your listeners fired up nightly on AudienceBakery Radio's Classic AOR.