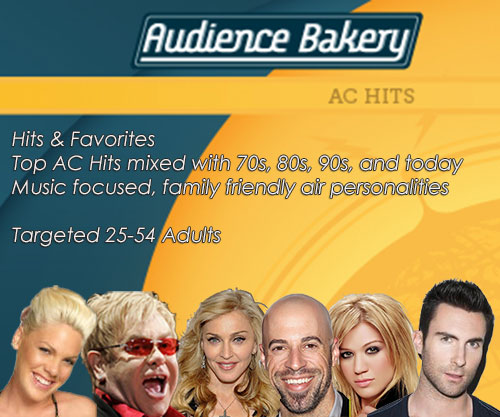 For more information on AC Hits or other 24/7 Formats call today.
1.866.480.RADIO or click to email
CLICK BELOW to experience AC Hits

Format Description
AC Hits and Favorites mixes today's top Adult Contemporary Hits, recent hits, and proven favorites from the 80s, 90s along with the best from the 70s for flavor and fun.  AC Hits and Favorites air personalities speak to each listener one-to-one. They understand the audience and understand what keeps them coming back for more.
Adele - Maroon 5 - Billy Joel - Kelly Clarkson - Madonna - Bruno Mars - Taylor Swift - Michael Jackson - Phil Collins - Daughtry - P!nk - Journey
AC Hits focuses on 25-54 women with a special emphasis on 35-44 women. These are the high income, highly educated, decision makers in the household and control the household budget. They are driven, family oriented, and the perfect group to drive revenue for advertisers.
AC Hits - Your Music! Your Life!
Programming & People
PETER STEWART

AudienceBakery Radio's AC Hits is programmed by Peter Stewart.  Peter created ratings and revenue as PD/Air Talent at ABC AC and SMN Star Station as well as markets like Dallas, Austin, Philadelphia, and Little Rock. A leading expert in AC programming, Peter understands the needs and desires at the station level.  Peter is joined on the air by a fresh line-up of top rated major air talent.

JOHN HART

is a national voiceover artist, top rated morning show host, college professor, and dad. No matter what his role John's a proven ratings grabber. Your listeners will instantly recognize his voice from Subway, Ruth-Chris, and other national radio and TV commercials.

DEBI DIAZ

Debbie entertained north Texas from Dallas on KLUV for nearly 20 years where she had consistent top ratings middays. She loves Dancings with the Stars and her local symphony, too. Debi is easy to get to know and she is the real deal. She's loves radio and your listeners can tell it.