Turn-key Solution for Mobile, Social, and Digital
AudienceBakery mixes music, mobile, social, and digital to build community and personal relationships between your brand and your customers. For the first time you can connect with your customers anywhere, 24/7.
Branded Radio-On-The-Go is used to drive mobile interaction and sharing and desired behavior in a social media environment. Some of the world's most well known brands use AudienceBakery's unique community and relationship building, marketing tools, and strategies to connect with their customers 24/7.
Music is a Powerful Connection Tool
Facebook agrees. In a January 2012 statement, the world's largest social networking site said, "Music is one of the most powerful and fun ways to connect." We create a special connection to your brand with music. Give your customers the music they love without the distractions and interruptions they experience on radio. Create the opportunity to expose your brand and your brand only on a one-to-one basis. We create an opportunity for you to build a stronger bond and loyalty with your customers. more...
Turning Customers Into Fans
AudienceBakery music channels are created to encourage repeated usage. They're available everywhere your customers and fans are: on mobile, Facebook or other social media, or surfing the web. This creates 24/7 opportunities to connect.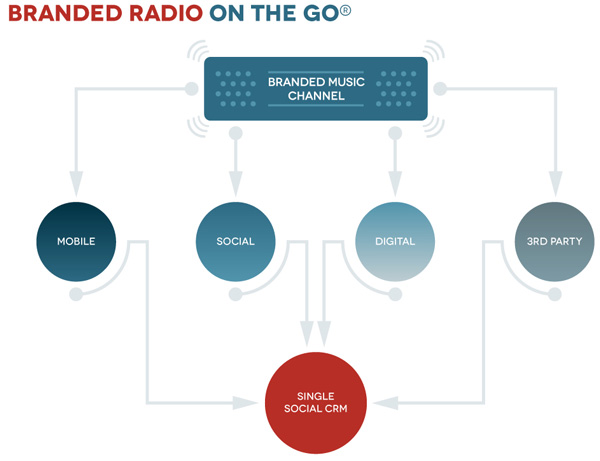 ---
Turn-Key Solution
AudienceBakery one-to-one marketing tools include channel design and music flow, mobile and social networking apps, high quality streaming, royalties and streaming fees, and a social CRM to make it easy to manage. We also offer location based marketing, imaging, graphic design, national voice talent, commercial production, jingles, news, sports, and traffic reports.
Our BrandConnects music channels are ready now for social networking, mobile devices, Online or in-store. Extend your brand connections to mobile devices and social media with your own branded music channel.
The world's biggest and brightest look to the AudienceBakery for guidance on custom Branded Radio-On-The-Go channels to enhance their brand strategy. Here are some examples.
For more information on how AudienceBakery can help you build community and create a unique and personal relationship with your customers through music, mobile, and social, call Bob Romanko at toll free 1.866.480.7234 ext 7777 email or Judith Sorrell 1.866.480.7234 ext 235 email
>